Montessori
You will find instructions and suggestions in this category on how to create the classic material, developed by Maria Montessori or her son Mario himself - sometimes more simple, sometimes more elaborate.
You can help us making the Wunderwerkstatt more beautiful. If you buy something through our affiliate links, you support us effectively.
supports the children in their need to engage in meaningful activities
offers the children the opportunity to learn at their own pace
the classic Montessori exercises from age 3-6
Maria Montessori developed Practical Life Activites, since the children in her observation had a need to engage in meaningful activities. They want to practice in their own way and at their own pace, what they see their parents doing every day.
With these exercises, children can learn, internalize and refine autonomously following areas:
sensory-motor skills
sence of balance
Fine & gross motor skills
Hand-eye coordination
Motion and action sequences
The exercises are presented on a tray. The children can take them out of the shelves and put them back independently. The objects are childsized, in order to address the body memory all objects are arranged in writing direction, ie full containers are positioned on the left, empty ones on the right.
During the first presentation, the child is shown the individual steps in slow and precise movements. The actions should be accompanied verbally: "First I take.... and then ...".
There are exercises on the following topics:
Selfcare
Care of the environment
Exercises on various handicraft techniques
Sequences of Movement ( Transfer work with pliers, spooning, pouring activities , transfer work with the syringe or pipette )
cooking
for cutting
You can help us making the Wunderwerkstatt more beautiful. If you buy something through our affiliate links, you support us effectively.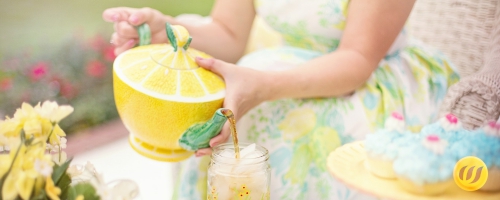 supports the developement and refinement of the senses
the "Key to the World" - Maria Montessori
Gradation, pairing and contrast can be experienced
Sensory material, the probably best known material which has been developed by Maria Montessori. Beyond that it is the most important material for a child's developement, according to Maria Montessori before every successful aquiring of knowledge stands the experience with their own senses. Only with developed and trained senses children can understand certains terms and concepts. They can then put them into context and can therefore sort them into certain categories - this is why Maria Montessori also called it 'the key to the world'.
Because of its strong optical stimulative nature children will be curios and eager to work with the material. Due to the childrens' own inner motivation they gain of knowledge will be effective and lasting.
The material mainly deals with the known 5 senses: touch, hearing, sight, smell and taste. Only when looking closer it becomes evident that through different structures and/or dimensions of the material, it also addresses the sense of balance and body awareness.
For that matter one specific characteristic is isolated with every materials, this helps to not confuse the child and makes it easier for the child to process the impressions. Additionally every materials inhabits the possibility for error checking, this allows the child to work independently and self-reflective. Here the principles of shading, pairing and contrast building are being experienced and exercised.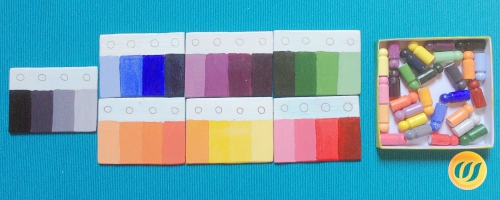 explore and understand connections and rules in the world
includes many "traditional school subjects"
a "keystone of Montessori pedagogy"
'Cosmic education' is one of the pilars of the Montessori pedagogy. This is about teaching knowledge about oneself and the world exploring and understanding connections and principles from the start instead of dividing them into different subjects. The children can find themselves and their place in the big world order and can take responsibility for themselves and the environment.
Cosmic education includes a lot of 'classic school subjects'. It connects those in order to make correlations and interconnections easier to comprehend.
Cultural studies: history, geography, social studies, philosophy
Natural history: biology, physics, chemistry, geology, ecology, astronomy
Fine arts: music, art, theater, circus
Practical life: handcraft, needle work, computer science, home economics
Health and movement: physical education, religion, ethics, peace education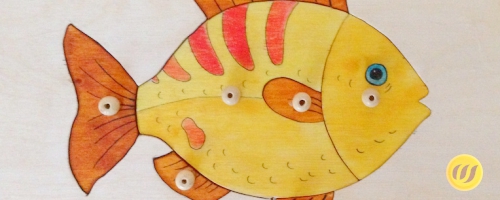 guides through the steps to read and write
Building words and sentences
coupled with other sensorial experiences
Language material supports the children in their interest for letters and writing, therefore it helps them to aquire handwriting. This material can also be used to make grammar and sentence structure easier to understand.
Due to its strong visual appearance the material awakens the childrens' curiosity and creates the wish to work with it. The intrinsic motivation of the children leads to lasting knowledge aquisition.
You can help us making the Wunderwerkstatt more beautiful. If you buy something through our affiliate links, you support us effectively.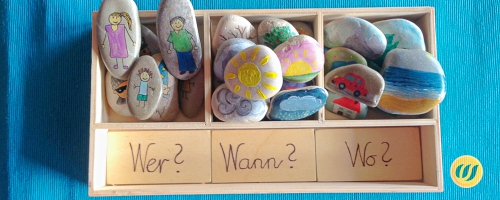 first puzzles
pluging, looping and slipping
imbucare and objectpermancene boxes
Montessori infant materials are often the smaller version of classic Children's house materials, which responds to the needs of infants. The children can explore and sharpen their senses and are supported in important steps of their development.
There are different areas:
Practical life
motoric exercises
Imbucare and object permanence boxes
first sensorial materials
For babies there are mainly the wonderful mobiles and other sensoric experiences.
You can help us making the Wunderwerkstatt more beautiful. If you buy something through our affiliate links, you support us effectively.