<< Amazon-(Affiliate)-Links [respectively the whole Amazon cart] will provide a small percentage – without additional cost to you! >> therefore we have to mark this article as #ad ;-) . <<
Introduction
In the Children's House they wanted to offer materials which help the children to write theater plays and tell stories. That is why we thought about something that would make it possible for younger children to access classic narration techniques and the arc of suspense. A felt mat with the progression of the story and stones with the questions Who? When? Where? are used as a aid to memory for the children, to help them write an exciting story. The figures for the question Who? have been created looking at existing hand puppets - first theater plays have already been created like that.
Of course you can also offer the stones without the mat in a basket and they can be used for free story telling. With younger children the stones in combination with the mat offer a good way to aid their memory and help to not loose the red threat - it also helps to find exactly what you want to tell.
You can help us making the Wunderwerkstatt more beautiful. If you buy something through our affiliate links, you support us effectively.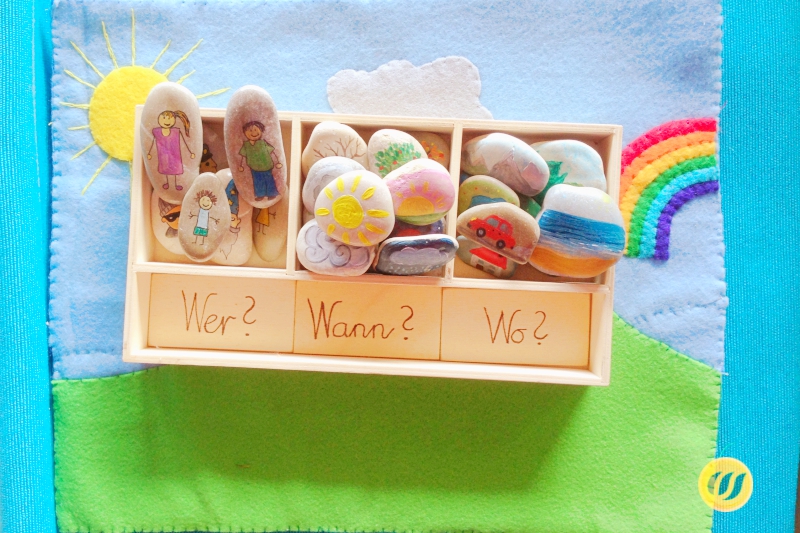 Required materials
Instead of stones you can use other objects and little figures to aid the memory and to create ideas.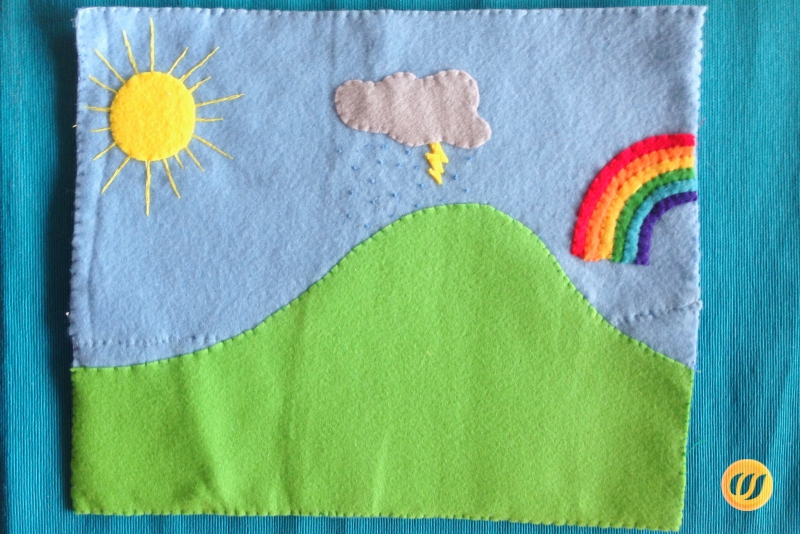 Steps
Cut out the pieces for the felt mat of the narrative arc. Mount everything on a carrier fabric or carrier felt and save with pins.
Sew on the sun and embroyder the rays, sew on the thunder clouds and the rainbow, for the rain drops I used the French knot stitch but you can also use pearls instead.
Fix the sky on the side with a loop stitch, sew on the hills and also use a loop stitch to neaten the border.
The story begins on the left with the question who? (is part of the story). It continues with the question when? and where? - then the figures make their way over the mountain (a problem arises) and the problem is solved (up the mountain via the rainbow).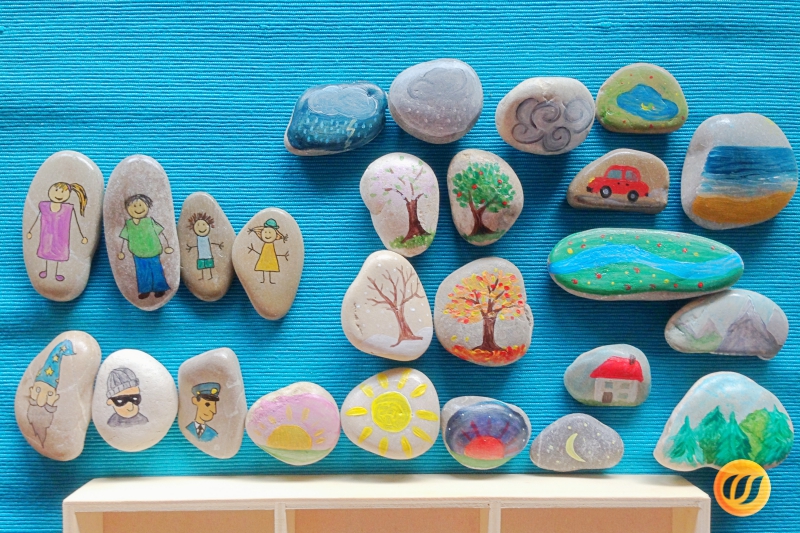 Paint the stones with acrylic paint (for the outlines I used a fine liner), let it dry. Brush with saliva proof varnish, the varnish makes the colours stronger and makes it all more durable.
Write the questions onto the pieces of wood. (I have used beeswax polish on the signs to make them nicer to handle and a little protected.)
Put everything in a box - finished!